Amazing beaches and crystal clear water. Food, wine and a profound hospitality that is hard to find anywhere else. Picturesque villages and dramatic mountain views. All of these will give you a fantastic experience of the magical Sardinia. Sardinia is the second largest island in the Mediterranean, beat in size only by Sicily. Once you visit Sardinia it is likely to become your favorite island. I promise.
You may not be able to go this year, considering the insecurity in the travel business at the moment, but when you do go, here are some practical tips – and a few hidden gems – that I would like to share with you.
1. Getting to the island
There are three airports in Sardinia: Cagliari in the south, Olbia in the north and Alghero on the west coast. Norwegian Air usually has direct flights during the summer season from Stockholm Sweden, Olso Norway and Copenhagen Denmark. For the summer of 2020, we will for obvious reasons, have to wait and see. We all pray Sardinia will be accessible again, to all that want to experience her magical beauty, very soon.
Several airlines have flights that reach Sardinia from other cities on the mainland, so that you can get here with a layover in Rome, Milan, Nice or other major European cities, no matter where your starting point is. From Marseille and Toulon in France, Bonifacio in Corsica, Neapels, Genova or Civitavecchia in Italy there are also ferries to Sardinia if you want to come by car.
2. Public transportation
There are bus and train lines for most major cities in Sardinia. However they can be a bit tricky to figure out and they can be unreliable at times. You buy your bus ticket in a Tabbacchi (Tobacco shop) and have it stamped on the bus, but there has also in recent years been introduced an app, where you can buy your ticket online, which works most of the time. 😉 You can find the "DropTicket" app for both iPhone and Android.
3. Renting a car
If you want to explore the island, and not stay in one place, a rental car is highly recommended. The airports have several car rental companies and usually you can rent on arrival. If you want to make sure there is a car available for you when you come, booking online in advance is a wise step. Be prepared for high deposits (amount blocked on your credit card until you return the car) and check your own travel insurance coverage before agreeing to extra insurance via the rental company. Also check the car thoroughly for pre existing damage, and make sure it is noted by the rental company, before you take it out of the parking lot.
Discover the magic gems of Sardinia
4. Bosa
A must, if you have the time, is the costal road from Alghero to Bosa, along breathtaking cliffs and winding roads high above the sea.
The costal town of Bosa, is located south of Alghero, on the river Temo, and it is one of the island's most charming towns. In the colorful narrow alleys there are cafés, art galleries and small shops that sell local delicacies. Many of the streets are actually stair cases instead of pavement between houses, leading up to the castle at the top of the hill.
5. The old town, Cagliari
Cagliari is the capital of Sardinia and a visit to the historical center and the Castello is almost a must. You can also visit the archeological museum and its collection of Fenician artefacts and the Gothic Cathedral. Take the stairs up to San Remy's fortress for a spectacular view of the city.
In addition there is of course also great shopping and restaurants, both in the town center and in large shopping malls.
6. Su Nuraxi, Barumini
The round stone fortresses are called Nuraghe and were built by the Nuraghe population that lived in Sardinia 4.000 years ago. There are more than 7.000 of them scattered over the island. A place that is really worth visiting is Su Nuraxi in Barumini. It was named a Unesco world heritage in 1997.
7. Go on a food or wine tour
Visit a vinyard and learn more about the famous grape of Sardinia, cannonau. Try delicious salsiccia (sausage), Pecorino sardo (Sardinian sheep cheese) or Casu marsu ("worm cheese"). Learn how to make your own ravioli from a real Italian "nonna" or visit a dairy farm and make your own ricotta cheese. Our guide Sandra Sanna can put together a tour especially made for you. Contact us with your wishes for your next trip, and we will put together a package for you!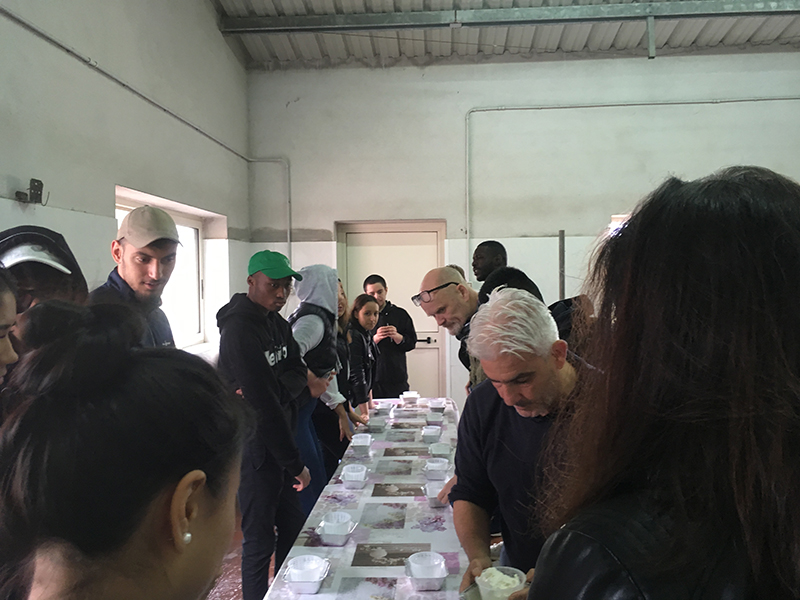 8. Discover the Neptune cave
The steps down to Grotta di Nettuno close to the city of Alghero on the west coast is almost as dramatic as the inside of the cave that is filled with stalactites. The cave is well visited and can be reached either by bus or boat.
However if you have difficulty walking you should consider going by boat from the harbor at Alghero. On arrival by bus you have to walk down the 654 steps to the entrance.😊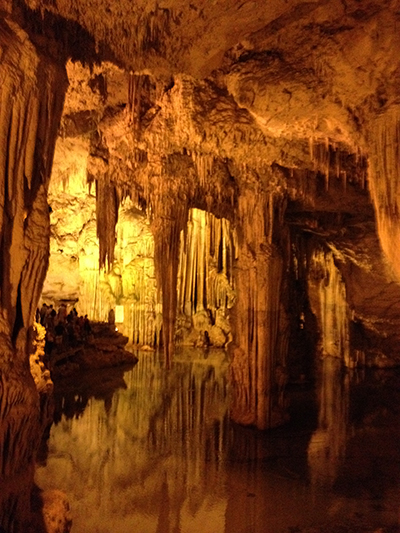 Experience the most beautiful beaches in the world
There are miles and miles of coast and beaches in Sardinia. There are almost as many types of beaches as there are actual beaches. Grass, sand fine as flour, or sand that looks like rice grains, egg shaped pebbles or rugged cliffs. Every beach is different from the next. In this post I will tell you my own two favorites.
9. Spiagga di Is Arutas, Cabras (OR)
You will find the beach of Is Arutas on the Sinis peninsula on the west coast of Sardinia, in the Oristano Region. It is hidden out of plain sight from the main road, but well known and often called one of the island's most beautiful beaches. The water is clear, and on windy days the current can be strong, so this is maybe not an ideal kiddy beach. What makes it so special, except for the crystal clear water and the rough cliffs that surround the cove, is the sand. It is made of rice grain sized pebbles of white quarts. It doesn't stick like the finer sand on other beaches, but beware – it reflects the sun as does water or snow, so don't forget your sunscreen. 😎
10. Spiagga di San Giovanni di Sinis, Cabras (OR)
High smooth dunes of fine sand and calm shallow waters. Perfect family beach. The beach face the west which displays stunning sunsets.